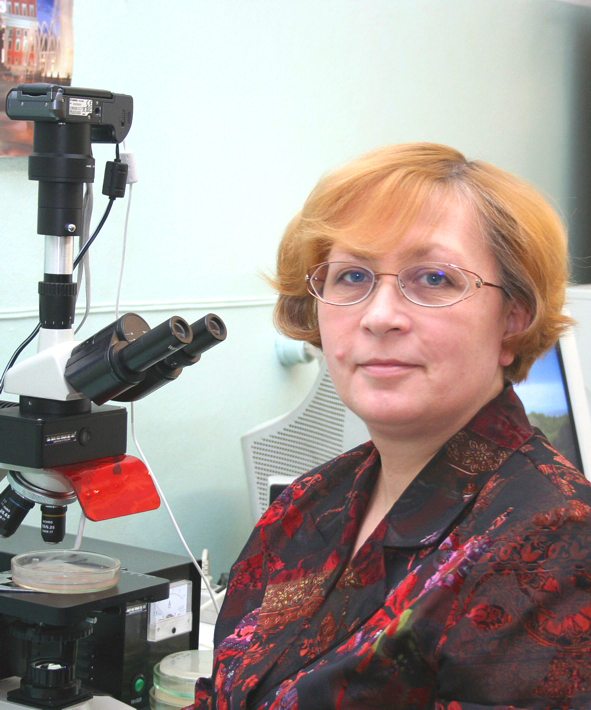 Doctor of Biology, specialization in Microbiology and Soil Studies.
Chief of the Laboratory of Biotechnology of Plants and Microorganisms of the Agricultural Research Institute of North-East.
The leading member of the Biomonitoring Laboratory of the Institute of Biology of the Komi Science Centre of the Ural Division RAS.
Professor of the Microbiology Department of the Vyatka State University.
Member of the Biotechnology Board of the Government of Kirov Region.
Expert in the sphere of agricultural biotechnology registered in the Federal Centre of Federal State Budgetary Scientific Institution Research Institute Of Federal registry of the Federal Research Centre for Project Evaluation and Consulting Services.
Research interests: ecology of microorganisms, methods of monitoring with the use of biotesting and bioindication; biotechnologies of microbe-plant systems.
Biography, scientific achievements
The main scientific achievements: The laws of space-time organization of microbial communities in acid soils of the region are stated, which help to assess the contemporary state of microbial complexes, to foresee the development of soils in conditions of anthropogenic impact and in natural condition, to search and determine the microorganisms cultures which are important from biotechnological point of view. Biotechnologies contributing to increasing the yield and stress-resistance of agricultural plants in conditions of acid soil are worked out. New laws of microbial regulation of plants (crops, potato, broad-leaved clover) yield and resistance to phytopathogenes and stresses are found for the sake of managing microbial-plant systems functioning. Publications: over 300 works, including 5 monographs (with co-authors).
Main publications
Microbial communities in acid soils of Kirov region (2004) (co-author – A.A. Shirokikh) Широких А.А.)
Medicinal fungi in traditional Chinese medicine and in contemporary biotechnologies (2009) (international group of authors) -
Anti-fungal potential of actinomyceses in rhizosphere of barley in sod-podzol soil // Pochvovedeniye. 2003. № 4. P. 458-464.
Development of auxins by endophytic actinobacteria of winter ruttishness // Prikladnaya biokhimiya i mikrobiologiya. 2010. Т.46. № 1. P.51-57. (co-author – O.V. Merzayeva)
Peculliar features of the functional structure of Streptomyces complexes from soil characterized with a different level of contamination with heavy metals // Sibirskiy ekologicheskiy zhurnal. 2015. №1. P.154-162. (co-authors – E.S. Solovyeva, T.Ya. Ashikhmina)
Scopus AuthorID: 6602890772
ResearcherID: V-3449-2017
ORCID: 0000-0002-3319-2729
Contacts
Place of work: Federal scientific agricultural center of the North-East
Email: biotekhnologiya@fanc-sv.ru
Phone: 8(8332) 331039